The Scope Of Study
CPAT – TVS offers a three year Regular Program in Electrical & Electronics Engineering
The training program in Electrical and Electronics Engineering enables students to gain a broad understanding of technological concepts in industry.
Electrical and Electronics Engineering concepts are applied to a wide variety of systems such as Communications, Automobile Process Controls, manufacturing and Maintenance, and Industrial Automation.
Description Of The Program
The courses offered in the Electrical & Electronics Engineering program include the study of Basic Electric Circuit and Analysis Techniques, Semiconductor Devices, Measuring Instruments, Digital Logic, Micro-Controllers; Electrical Energy, Machines, Power Electronics and Power Systems.
Students in this stream are required to take Special courses including Values, Yoga and Meditation, Business Economics & Entrepreneurship, High School Math and Science, Functional English, training in Industrial Pneumatics & Hydraulics, CNC and PLC, and Auto CAD.
Continual revision and up gradation of the curriculum ensures exposure to new technology and new industrial practices in Engineering and Services. Students get to study under experienced faculty members and factory supervisors and managers.
Courses Offered
Competencies Acquired From The Program
The students
Learn about technology and operations of Electrical and Electronic Systems.
Obtain hands-on experience with Electrical and Electronic Machines, Pneumatics and Hydraulic machines, PLC & CNC, Microprocessor & Microcontrollers, Power Electronics and Electrical Drives.
Undergo a thorough training in advanced high school level science and mathematics. This provides them with the academic knowledge and skills base for the courses in technology and engineering.
Make industry ready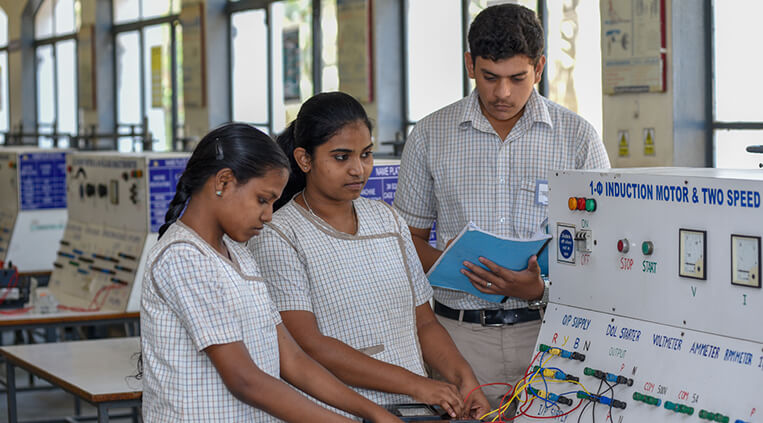 Further Study
After completion of the Diploma in Regular program, students are eligible for a lateral entry to the second year of Engineering Degree Program, while they continue to work in the industries. 
Or, they can join the second year of the full time engineering program.
Career Opportunities
All successful graduates have been appointed in the following industrial positions
Project Control Technician
Electronic Maintenance Technician
Production Technician
Field Service Technician
Systems Test Engineer
Quality Assurance Technician
Field Project Technician
Power Technician
Communications Technician
Placement
CPAT-TVS Electrical and Electronics Diploma Engineers have been placed in the following industrial establishments –
Nokia Siemens Networks Ltd.
Asian Paints Ltd.
Lucas TVS Ltd.
TVS Motor Company Ltd.
Ashok Leyland Ltd.
Foxconn Ltd.
Nokia India Pvt Ltd.
Michelin Tyres Ltd.
Wheels India Ltd.
Sundaram Clayton Ltd.