The Scope Of Study
CPAT-TVS offers a 3 ½ -year Sandwich Program in Mechatronics Engineering.
The training program in this field enables students to develop a broad understanding of the principles of Mechatronics Engineering and their applications in industry. The program combines hands-on experience, technology and experimentation and problem solving.
Mechatronics Engineering is the integration of Mechanical, Electrical and Electronics Engineering to produce or enhance products and systems. It is a fusion of Precision Mechanics and Electronics in the design and manufacture of products and processes.
Mechatronics Diploma engineers (DMTE) work in a wide range of industries with a broad array of career opportunities - from designing and manufacturing to installation and commissioning of plants, production, product/system testing, quality improvement, and technical services support.
Description Of The Program
The courses in Mechatronics Engineering are designed to encourage students to investigate the concepts of Robotics and Motion Control, Industrial Automation and Industrial manufacturing Technology along with practical experience in Electrical, Mechanical, Industrial Electronics, Auto Electronics, and Control systems.
Special courses that all students in this stream are required to take include Values, Yoga and Meditation, Business Economics & Entrepreneurship, High School Math and Science, Functional English Electrical Auto CAD, Pro-E, Advanced Pneumatics & Industrial Hydraulics, PLC, Advanced Machining, and Electrical Drives.
Continual revision and up gradation of the curriculum ensures exposure to new technology and new industrial practices in Engineering and Services. Students get to study under experienced faculty members and factory supervisors and managers.
This program prepares students for a diverse array of employment opportunities or to pursue further education.
Courses Offered
The In-Plant Training Program
During the 4th and 7th semester, students undergo in plant training in state-of-the-art industries where they receive hands-on experience with Robots, Process Control Instrumentation, Electrical Drives, Auto Electronics, Sensor Testing & Trouble Shooting, PLC, CAD/CAM, Advanced Pneumatics and Industrial Hydraulics, Advanced Microcontrollers and Computing Systems. They understand industrial manufacturing systems, quality concepts, and undertake live industrial projects as vital parts of their IPT.
During the 7th semester students are required to complete industrial projects in their chosen field of study. These projects enhance their employability.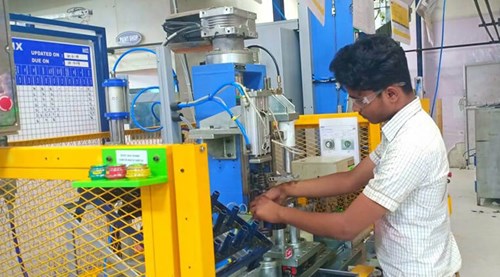 Competencies Acquired From The Program
The students
Learn about technologies associated with Robotics and Motion Control, Industrial Automation and Manufacturing

Undergo a thorough training in advanced high school level science and mathematics. This provides them with the academic knowledge and skills base for the courses in technology and engineering.

Acquire hands – on experience through in-plant training and project work.

Develop personal and inter personal skills through courses in Values, Yoga and Meditation, Functional English and Dramatics.

Become industry-ready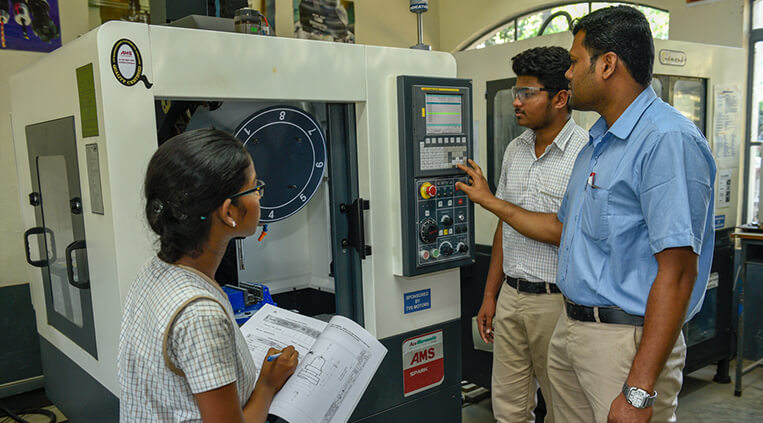 Further Study
After completion of the Diploma in Sandwich program, students are eligible for a lateral entry to the second year of Engineering Degree Program, while they continue to work in the industries. 
Or, they can join the second year of the full time engineering program.
Career Opportunities
Typical job titles in which CPAT-TVS Diploma engineers will be employed are:
Automation Technician
Engineering Assistant
Computer-Aided Drafting and Design
Quality Management Technician
Lab Technician
Instructional Assistant
Technical Supervisor
Robot Technician
Placement
100% of our students have been placed in state-of-the-art companies. The first batch of students graduated in 2012.
The CPAT-TVS Mechatronics Diploma Engineers have been employed in the following industrial establishments -
Ashok Leyland Ltd
Enfield India Ltd
Nissan India P Ltd
Schwing Stetter
Hyundai Motors Ltd
Ford India
Daimler India
Mahindra & Mahindra