The Scope Of Study
CPAT-TVS offers a 31/2-year Sandwich Program in Robotics and Automation Engineering.
Autonomous and remotely operated systems are being implemented worldwide in manufacturing industries to reduce risk to human workers and to improve quality of products. The same being deployed to improve the quality of lives through robot-assisted medical rehabilitation and care.
A collaborative expertise in the field of mechanical engineering, electrical engineering and computer science is necessary in order to develop such systems. This increased demand of efficiencies and safety in manufacturing industry/health sector has led to an immediate need for engineers/technicians with an added expertise in the field of Robotics and Automation. Robotics and Automation Engineering is an independent branch of engineering deals with design, construction, operation, and application of robots coupled with computer based control systems for the production of goods and services. This seven semester sandwich diploma program is aimed to prepare students for a career in this field of Robotics and Automation.
A specialization with Sandwich Diploma in Robotics & Automation Engineering will enable students to fulfill the Industry requirement for implementation of new and smart technologies in production system. 
Description Of The Program
This program provides comprehensive educational platform to build a solid and broad understanding of latest developments and issues in Robotics and Automation Systems.
This program puts emphasis on the design of modern Robotic systems for digital manufacturing. It provides solid foundation in the fundamentals of mathematics, engineering mechanics, electrical systems, electronics, sensors, computer programming, manufacturing technology and technical writing to enable students acquire the necessary attributes to become technically proficient in this new dynamic field.
The special courses students take in this program includes Values, Yoga and Meditation, Business Economics & Entrepreneurship, High School Math and Science, Functional English, CNC Programming & Machining, Pneumatics & Hydraulics, Power Electronics and Drives, PLC & HMI, Embedded Systems, CAD- CAM, Industrial Networks and Image Processing.
Continual revision and up gradation of the curriculum ensures exposure to new technology and new industrial practices in Engineering and Services. Students get to study under experienced faculty members and factory supervisors and managers.
This program prepares students for a diverse array of employment opportunities and to pursue further education.
Courses Offered
The In-Plant Training Program
During the 4th and 7th semester, students undergo in plant training in state-of-the-art industries where they receive hands-on experience with GPMs, CNC Machines, Robots, CAD/CAM, Electro-Pneumatics and Hydraulics, Industrial Instrumentation, Electrical Drives, Sensor Testing & Trouble Shooting, PLC, HMI, Industrial communications, Advanced Microcontrollers and Computing Systems. They understand industrial manufacturing systems, quality concepts, and undertake live industrial projects as vital parts of their IPT.
During the 7th semester students gets a learning opportunity through industry platform and a comprehensive project linked to the challenging needs of industry which enable the students to further test and develop knowledge and skills. This also expands the opportunity of self-employment.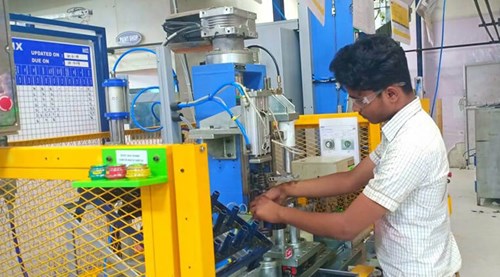 Competencies Acquired From The Program
The students
Learn about technologies associated with Manufacturing Systems Integration, CNC Machines, Industrial Robotics, Industrial Automation and Embedded Systems.

Undergo a thorough training in advanced high school level science and mathematics. This provides them with the academic knowledge and skills base for the courses in technology and engineering.

Acquire hands-on experience in Electrical controls, Industrial Hydraulics, Advanced pneumatics, PLC&HMI Programming, Embedded programming, Teach Pendant Robot programming, CAD/CAM, Industrial Networking.

Acquire hands–on experience through in-plant training and working on individual projects.

Develop personal and inter personal skills through courses in Values and Ethics, Yoga and Meditation, Functional English and Dramatics.

Become industry ready.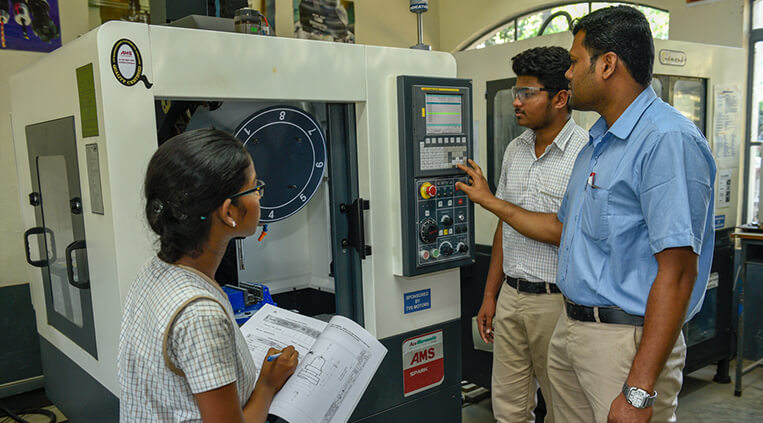 Further Study
After completion of the Diploma in Sandwich program, students are eligible for a lateral entry to the second year of Engineering Degree Program, while they continue to work in the industries.
Or, they can join the second year of the full time engineering program.
Career Opportunities
Typical job titles in which CPAT-TVS Diploma engineers will be employed are:
Automation Technician
Robotics Technician
Maintenance Technician
Instrumentation Technician
Flexible Manufacturing Engineer
Automated Production Design Engineer
Team leader
Field Service Supervisor
Field Project Supervisor
Placement
Every successful graduate will be placed in leading industries in the region. CPAT-TVS students have received excellent commendations from their industrial employers for their innovative ideas, high motivation and initiative.
The CPAT-TVS Diploma Engineers have been employed in the following industrial establishments -
Ashok Leyland Ltd
Enfield India Ltd
Nissan India P Ltd
Schwing Stetter
Sundaram Clayton Ltd
Lucas TVS Ltd
Delphi TVS Ltd
Hyundai Motors Ltd
Ford India
Daimler India
Mahindra & Mahindra
General Electric India Ltd
Adverb Technologies